Seed of Faith: Standing on the Promises of God – This is my stand. What about you? In this segment of gospelpulpit.com we bring you gospel messages that promote the promises of God in your lives. So, if you hope to leverage on the promises of God to fulfil your destiny, this site and this content is for you. For today, if you read on, you will have a lot of blessings to rely on. Keep on reading.
Get this!
The fulfillment of the greatest of all the promises made by God – Biblical Text: John 1: 10-18. Let's read along.
10 The Word was in the world, the world was made through it, but the world did not know it. 11 She came to her house, but her own did not receive her. 12 But she gave the power to become children of God to all who received her, that is, to those who believe in her name. 13 These were not born of blood, nor of the impulse of the flesh, nor of man's desire, but they were born of God. 14 And the Word became man and dwelt among us. And we contemplate his glory: glory of the only Son of the Father, full of love and faithfulness. 15 John testifies to him, proclaiming:
'This is the one about whom I spoke: that man who comes after me passed in front of me, because he existed before me'.16 For from its fullness we have all received, and a love that corresponds to his love. 17 Because the Law was given by Moses, but love and faithfulness came through Jesus Christ. 18 No one has ever seen God; who revealed God to us was the only Son, who is with the Father.
Reflection:
In view of the text above that condenses, consolidates and brings together the promises of our God, I bring two questions:
Are we prepared to live a whole life in the presence of the Lord and not achieve, in life, the fulfillment of some of His promises? Does our faith endure a life of hope only, without, however, proving the fulfillment of the Lord's promises?
And, I ask these questions because the text above contains the consummation of the most important of the promises of our God: "The Word became man and dwelt among us".
Abraham Example: SEED OF FAITH: STANDING ON THE PROMISES OF GOD
As much as things change and more as time goes by, the fulfillment of this promise from God continues to exercise the same fascination, the same transforming power in people's lives and the same possibility, granted by the Ministry of Jesus, to lead us to the heart of the Father. This is because living with the certainty that "the Word became man and dwelt among us", creates in us perseverance and a firm faith in our hearts. It is because of this unshakable certainty that we can live our faith without fully proving God's promises. We cannot forget that Abraham, despite bearing the title of father of faith, did not see his children in the same number as the "stars of heaven". Like him, so many other names did not see the fulfillment of the Lord's promises, yet they kept their faith firm in their hearts.
This demonstrates that our faith must always be placed in the Giver of hope and not in immediate and preferential fulfillment; our faith must always be placed in the One who enables us to live in the certainty that all things, whether good or not, cooperate together for our good, because God's promises have the power to remain new, exciting and wonderfully transforming.
No Changes:
God does not change His intentions, He does not undo His promises, nor does He restore our covenant with Him. The promises of God continue to have the same joviality, the same sweetness and the same timeliness of principles that He always had, they remain so current as well as inspiring, capable of changing ordinary lives or not, turning dreams into reality, removing our fears and giving us courage, exchanging our weaknesses, make our disability an entrepreneurial force, whose inspiration will be able to change our generation, just as it has changed so many others.
Full and Unrestricted Applicability: SEED OF FAITH: STANDING ON THE PROMISES OF GOD
That is why I say without fear of making mistakes, that God's promises combined with the wide, full and unrestricted applicability of the precepts inserted in His Word continue to be the only truth that transforms lives and rescues hearts, making all things new, generating a dependence on that. that comes directly from the Father, through the channel that was opened and opened by our brother Jesus.

Especially because the heavens will pass, the earth will pass, but the word of the Lord will continue to live and leads us to say the prayer that says: "Dear God, we want to keep our eyes on You; we believe that You are our strength, our song and our salvation; I believe that I can do everything in the one that strengthens me and that You can help us to look at the target, the target that one day we lost sight of. Lord, I am sure that you can and will make each of us more than winners through the effectiveness of Your grace in our lives. All of this we ask You not because we deserve it, but because our eldest brother, Your beloved son Jesus Christ, has given us the gift of being welcomed by You. Amen".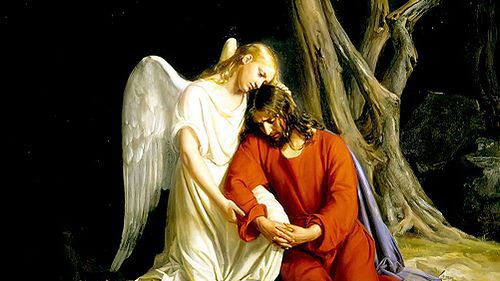 For reflection:
What do I mean by immutability of God's promises?
Do God's promises help you to remain patient in difficult times?
How to live today, here and now, the binomial of God's promises combined with the Word of the Lord?
His Promises Stand: SEED OF FAITH: STANDING ON THE PROMISES OF GOD
If you believe this, then you are our partner in this pospelpulpit.com. Would you therefore bookmark this page for future references? You are encouraged to fill in the email list platform under this page for your updates.
RECOMMENDED TOPICS:
Finally, do you have comments? Send them through our comment box below. Do you also have questions, send them through the comment box too. And if you have any special assistance, then, drop your phone number or email address at the comment box.
You will be doing a great what of God if you share this message to reach others.